MISO 18ヶ月
MISO 18-KAGETSU
HOSPITALITY(OMOTENASHI)
Miso oden has a light flavor, despite its appearance.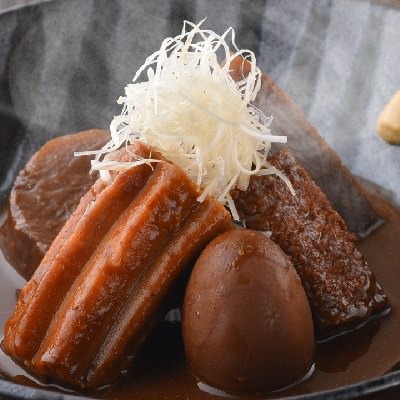 Among miso dishes, Aichi's local "miso oden" is really special. It is quite different in appearance and flavor from Tokyo's oden, which is simmered in transparent soy sauce broth. The oden we are proud of is a deep brown color because it has been simmered slowly, in red miso broth, for more than a whole day. Many people are surprised to see it, and surprised again when they taste it. It has a light, refreshing flavor which is seemingly in contrast with the brown color. Do try Aichi's oden, something that can rarely be savored in Tokyo, at least once!
Fresh fish sent directly from Himi, Toyama
All of our fish and shellfish are sent directly from Himi Port of Toyama, one of the leading fishing ports in Japan. "Namero," which can only be served when it is fresh, is a local specialty made by finely chopping filleted fish until it becomes sticky and then mixing it with miso. In accordance with the foodstuff available at a given time, we have also developed and served various other dishes, such as those grilled in foil and grilled items marinated with miso.
Miso brewed in wooden barrels for 18 months
The miso used in MISO 18-KAGETSU is "Masuzuka Miso" produced in Toyoda, Aichi. It is made by the traditional miso brewery which is also the home of the owner's parents. The miso, which has been aged in wooden barrels, is sent directly from there. Please enjoy our rigorously selected miso dishes, developed through study after study, with a wish that many people get to know more about miso.