TRG Info and Advice
Celebrating Christmas and New Year's in Japan
One traditional and one imported holiday make the Japanese winter season bright!
Always striving to put its stamp on things, Japan has successfully established new Christmas traditions, while remaining dedicated to its long-celebrated New Year festivities.
Without the buffer of Thanksgiving, Japanese stores go straight from Halloween to Christmas. Santa hats, reindeer headbands, and pre-filled plastic or cardboard "stockings" line the shelves, tempting kids to start begging, or parents to start threatening, "Santa is watching you!" Alas, the Santa threat has yet to really catch on in Japan (Elf on the Shelf, too), so kids really don't feel pressure to get on his Nice list. Nor do many write letters detailing their Christmas morning requests.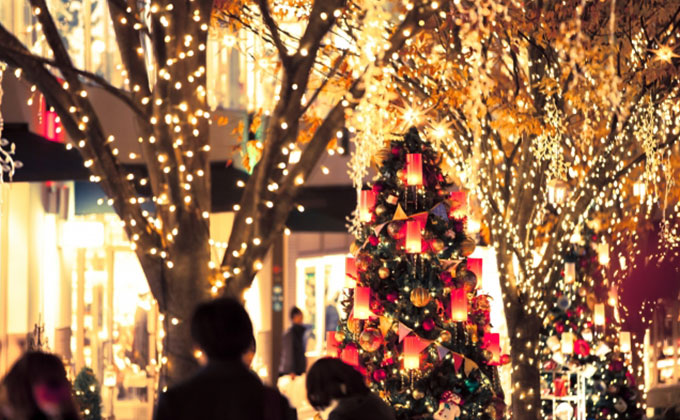 Instead, Christmas is for lovers! Reservations at fancy restaurants on Christmas Eve are a must for the romantically inclined. Carefully chosen trinkets, lingerie, or even engagement rings are common gifts on this paramours' holiday. Christmas-themed illuminated scenes can be found in even the remotest of island villages, and are a popular place for a pinkie-entwined stroll.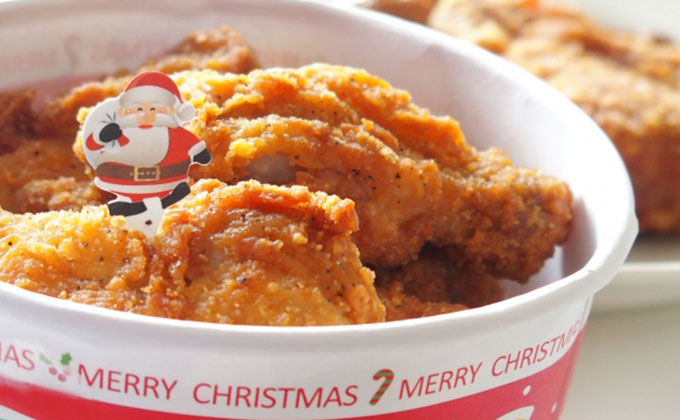 For those who have moved on in their lives, however, there is still fun to be had! Christmas Eve and/or Day is a time for Kentucky Fried Chicken and Christmas cake at home. These two items are so popular that orders have to be placed at least two months in advance. KFC? Really? Why, you might be wondering! As with most things, it has to do with an outstanding team of 1974 advertising agents promoting KFC's fried chicken as THE Christmas Dinner of Champions, and the rest is just inertia.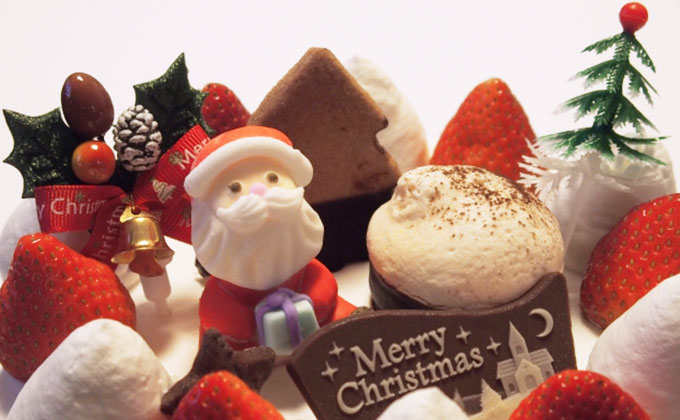 As for the phenomenon of Christmas cakes, they get more extravagant every year. Japan adores a confectionary challenge and quaint scenes of Santa in a winter wonderland compete with yule-logs that look almost too real to eat! Holly and poinsettia are popular accompaniments, too.
What about everyone gathering around the piano to sing Christmas songs? It depends on your friends and family, obviously, but it's probably not going to happen. Of course, piped-in Christmas carols can be heard nearly everywhere during the season, some in their original English, some, like "Jingle Bells," translated into Japanese. You will definitely hear Mariah Carey, but might not get "All I Want for Christmas…!" If there is a Christian church near you, though, you can expect Christmas services on the 24th and 25th for sure, and maybe even a caroling event.
Miniature Christmas trees, usually artificial, are in abundance, as are lights to make them pretty. But don't expect presents beneath it. As I mentioned above, presents are mostly exchanged by sweethearts, and even those from Santa are usually just one item left by the child's futon.
Despite all of these new and interesting traditions, Christmas is not a national holiday, so those who are students or employed will be expected to show up at school or work, just like any other day…
New Years, on the other hand, is a time for families AND it lasts several days. Almost like the Jewish Shabbat, work is frowned upon during the New Year holiday, so the days leading up to it are spent cleaning (think spring-cleaning in December!), and preparing the fanciest of all Japanese foods: osechi.  Osechi dishes are not just colorful and delicious, they are SYMBOLIC! Served in large, square, stackable wooden boxes, osechi is often homemade, but can also be pre-ordered from a department store. Some conveniences stores even sell osechi ryori on New Year's Day!
From sweet to savory, there are so many kinds of osechi that you may not be able to try them all. If this is the case, maybe you can pick and choose based on the meaning of each dish. Do you want to be more scholarly? Then, you should try the datemaki (looks like a rolled up scroll, but tastes like a sweet omelet) or the konbumaki (seaweed wrapped around dried fish). Are you hoping for financial prosperity in the New Year? Then, try and get your hands on the gold-like kurikinton (sweetened chestnuts), or the kuwai (Katniss root) if you are looking to get a promotion.
Maybe you are trying to get pregnant? Well, then park yourself in front of the kazunoko (herring roe), and maybe have an extra helping of the aforementioned konbumaki which can also symbolize fertility. If you are thinking about starting a family, or already have one, stability and strength are a must, so dig in to the gobo (burdock root). You'll also want good health, of course, so make sure to partake of the kuromame black beans. Good health often leads to longevity, so the ebi (shrimp) that is bent over like the elderly you often see in Japan should be added to your plate, as well. Delicately carved kikuka-kabu (turnip chrysanthemums) will protect you from evil spirits during your long life.
Unsure of what the future holds? Have some hole-y renkon (lotus root) so that you can see what is in store for you. Hoping for a good harvest? Gobble up some tatsukuri (dried, sweetened baby sardines) and make sure and get your hands on some tai (sea bream), too, to round out the celebratory theme.
Anything red (or pink) is said to scare off evil spirits so you may want to ingest some kohaku kamaboko (pounded fish cakes) which have the added bonus of looking like the first sunrise of the New Year. Namasu (vinegared carrots and radish) are also symbolically hued.
Adventurous cooks who would like to recreate some of these dishes at home can find excellent tutorial videos here: Osechi Ryori (Traditional Japanese New Year Foods).
If you are planning a trip to Japan this winter, why not try a petit homestay with Washocook? They also offer classes in seasonal dishes, or a chance to work with a famous chef!
More interested in eating than cooking? Wander through any major department store's basement level to be dazzled by examples of authentic New Year's dishes.
Younger generations charged with carrying on the osechi tradition have begun to pick and choose their favorites, making new additions like roast beef and grilled eel. There is even a dessert-centered osechi offered by LeTao for a whopping 25,000JPY!
No New Year's would be complete without mochi (glutinous pounded rice cake), which features in a variety of places. Kagami-mochi is a staple offering to the deities, placed in various rooms like the kitchen, the bathroom and the bedroom. Mochi is also the main ingredient in zoni (a traditional New Year's soup made with vegetables) and oshiruko (a sweet soup made with adzuki beans). You can find zoni and oshiruko at some places, even when it is not New Years.
★Sweets of Japan
★In the Luggage
Around the holiday, you may be able to find mochi-pounding parties or hotels where things are done the old fashioned way. Japanese preschools and special interest groups often host these delicious events. The glutinous rice has to be soaked a day or two in advance, and is then steamed outdoors in a rustic, multi-tiered steamer. Experts can intuitively tell when the steaming mound of rice needs to be transferred to the usu (a partially hallowed out tree-trunk mortar) to be pounded with the kine (a giant wooden mallet-shaped pestle). A crowd gathers to chant encouragement and a rhythm is established between the pounder and the turner.
★Making of Mochi
Once the steamed rice has achieved a uniform consistency, it is transferred en masse to a large tray dusted with potato starch. Merrymakers gather round, pulling and shaping the hot mass into small, delectable bites which are enjoyed with a variety of toppings both sweet and savory.  Some popular choices include sweetened roasted soybean kinako powder and adzuki bean paste for those with a sweet tooth, or wrapped in laver nori sheets then dipped in soy sauce or grated daikon radish for a savory taste. One of my family's favorite ways to eat mochi is to dip it into a shallow bowl of maple syrup with freshly grated ginger, but this is entirely our invention! Typical accompaniments to the mochi include tonjiru, a pork and vegetable soup, pickled vegetables and oshiruko sweet adzuki soup.
Check out this site for more ways to eat mochi.
To find out more about all kinds of delicious Japanese sweets, click here.
For more information on how all kinds of holidays are celebrated in Japan, check out this site.
Whether you get to personally experience these charming holidays in Japan, or just want to bring something fun and unique to your yearly celebrations, there are so many ways to be merry and bright. Happy Holidays!
More links to whet your appetite for learning about Japan and all things Japanese