TRG Info and Advice
Recreational Boating: a whole new way of seeing Tokyo
Tokyo: a city of water
Did you know that Tokyo is actually a city of water?
More than 400 years ago, the Tokyo area used to be a land of swamps where reeds grew. Ieyasu Tokugawa, the first Shogun of the Tokugawa Shogunate, started reclaiming the land while developing waterway networks to carry goods and passengers. This damp village was eventually transformed into the metropolis of Edo (modern-day Tokyo). Visitors from abroad who visited Edo from the end of the Edo Period into the Meiji Period (late 19th century), commented that, "Edo is a city of water in the East," comparing it to Venice in Europe.
Numerous goods and local products were brought to the city of Edo from all over Japan. People traveled on the roads, but goods were usually carried on the waterways, thus, they were the key component of logistics. At its peak, around 7,000 small boats were going back and forth on the waterways in Edo. Goods were unloaded at piers on the riverbanks, where many warehouses and markets were located. Canals were also built directly to the front of warehouses and big shopping streets. Around the piers, many shops, and eating and drinking establishments appeared for people who worked there, so the waterfront areas were lively and flourishing.
For citizens of Edo, waterways felt more familiar than mountains, and recreational boating was a form of mainstream entertainment. Regardless of the season, people enjoyed blossom viewing in spring, fireworks in summer, autumn foliage in fall, and snowy scenery in winter, all by boat.
Although relatively unnoticed today, many boats carrying lots of passengers, and varying from gorgeous cruisers to atmospheric yakatabune boats, come and go on the rivers and canals of Tokyo. With the 2020 Olympics coming up, too, city officials are anticipating an influx of tourists, so waterfront and waterway revitalization projects are well under way.
Recreational boating activities were once made obsolete and, also declined steadily because of the chaos after the War and the deterioration of water quality, but the pleasure boat trade is still alive today.
Enjoy a whole different perspective of Tokyo from the water!
Boat Types
Cruisers
From small to large, cruisers offer a sense of sophisticated luxury.
Yakatabune
Yakatabune are traditional passenger boats with a roof, varying from small ones with ten passengers to large ones with over a hundred passengers. There are about sixty funayado (companies which own and operate commercial yakatabune cruisers) in Tokyo today.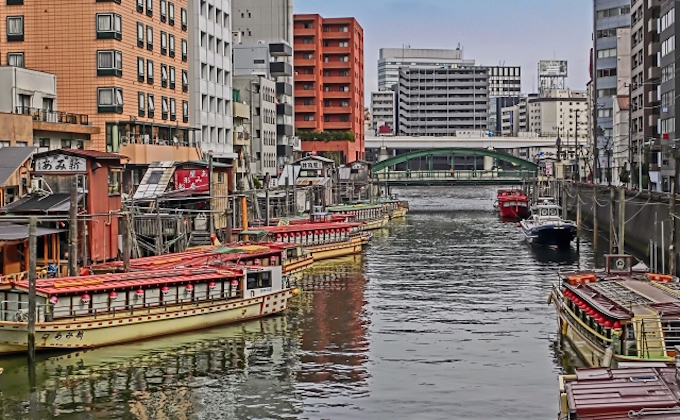 Chartered or shared, yakatabune usually go on fixed routes, but some offer special, seasonal cruises, including cherry blossom viewing, moon viewing and firework viewing.

Yakatabune come in a variety of styles, from ones with red paper lanterns hung on the edges of the roof and tatami-mat flooring where you sit on your knees, to ones with horigotatsu (sunken floor tables) or regular tables and chairs. Recently available are modern, well equipped yakatabune, which are fully air-conditioned, equipped with karaoke machines, and even have electrical toilet seats with the water spray (French-bidet style) feature! On yakatabune, you can usually enjoy multi-course style Japanese cuisine on board, including fresh-from-the-fryer tempura.
TRG's Pick Up
Waterbus Cruise by Tokyo Mizube Cruising Line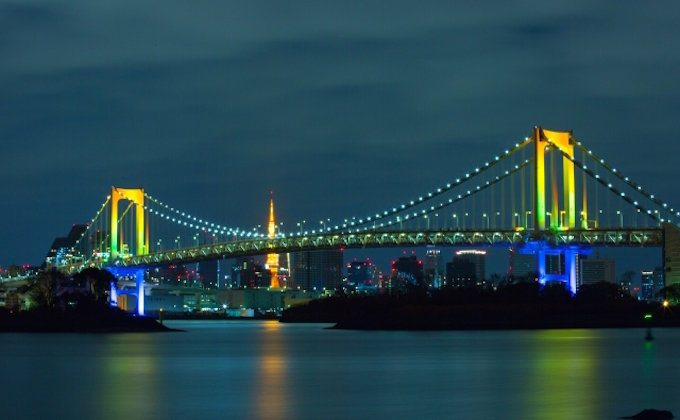 Operated by Tokyo Metropolitan Park Association, the Waterbus of Tokyo Mizube Cruising Line is a terraced boat that holds 200 passengers. The cruise from Asakusa to Odaiba is about a 50-minute trip over 10km of the Sumida River, heading towards Tokyo Bay. The Sumida River has been a popular pleasure boat route for over several hundred years.
On this route, you can enjoy views only available from the water. After you pass under the Kachidokibashi Bridge (built in 1940), you will see attractions along the riverbank: including Tsukiji Market, Tokyo Tower, and Hama Rikyu Gardens (you can get off here and visit the gardens). Once the boat sails into Tokyo Bay, you will pass under the Rainbow Bridge and be able to see the bridge up-close.
Tokyo Mizube Cruising Line also offers routes from Asakusa to Kasai Rinkai Park, Kasai Rinkai Park to Odaiba, night cruises, and more.
Advance booking is recommended.
http://www.tokyo-park.or.jp/waterbus/download/pdf/sanpo_en.pdf
Tokyo Yakatabune Association
On this Tokyo Yakatabune Association website, you can book a seat on a yakatabune, according to your budget and route preference.
There are many different kinds of cruises, ranging from 5,000-yen lunch cruises to 10,000 yen dinner ones, offered on a variety of routes, including the Sumida River route, the Onagi River route, Tokyo Bay route, and Haneda Airport route. They also offer special cruises for watching fireworks and cherry blossom viewing. There is even an interactive ninja-themed cruise, where you can enjoy activities with tablemates and staff clad in ninja costumes!
Treat yourself to freshly made tempura and delicious sake while enjoying the view from an atmospheric yakatabune boat.
http://www.yakatabune-kumiai.jp/en/
Funaasobi Mizuha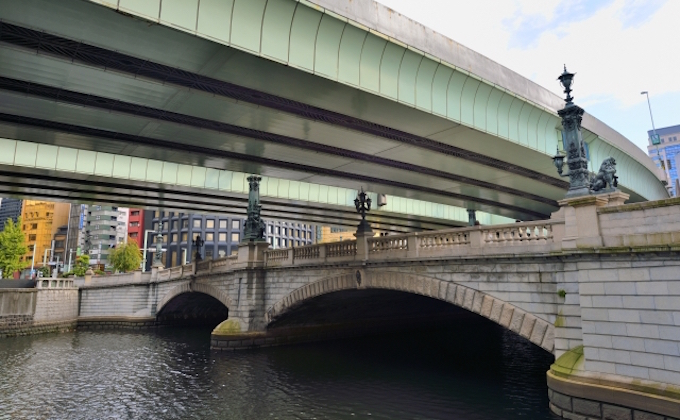 Funaasobi Mizuha offers round-trip cruises from Nihombashi Pier. Nihombashi, the center of Japan, has flourished around its namesake bridge, Nihombashi Bridge, which has been serving as the starting point for Japan's transport system. Four-hundred years ago, the Nihombashi River, which runs under the bridge, was crowded with boats carrying goods and passengers.
Mizuha is a small boat with a retro atmosphere, holding a maximum of twelve passengers. The cabin interior is designed to showcase the craftsmanship of Tokyo, such as Edo sarasa (dying) and Edo sudare (natural material woven blinds). Mizuha mainly provides chartered cruises, but also the Tokyo Landmark Cruise and special, seasonal cruises. Booking is required.
Example charter cruise> A three hour round-trip cruise departing Nihombashi, and traveling on the Nihombashi River, the Kanda River, and the Oyoko River. The Nihombashi River used to be part of the huge moat surrounding Edo Castle (today's Imperial Palace), and was used as a canal, too. On the way, you will see the remains of the old stone walls of the Castle, and the manmade Ochanomizu Valley carved into the plateau. After the Valley, you will pass by the Asakusabashi area where you will see a lot of yakatabune moored on the sides. On either bank of the Oyoko River in the spring, you can enjoy an exceptional view of cherry blossoms in full bloom. http://www.funaasobi-mizuha.jp/english
Tokyo Water Taxi
Tokyo Water Taxi began operation in 2016. You can hire a small, bright yellow boat (max. 6 passengers) for 13,500JPY per hour at 27 piers around Tokyo.
These taxi boats can navigate narrow canals, which are not accessible by other kinds of transport and big cruisers. Water taxis do not run fixed routes, and can take you anywhere you want to go, so this is one of their appealing points. If you like, you can go on a tour along the Kamejima River and have your bread and coffee delivered to your boat from Cawaii Bread and Bakery! You can also enjoy a panoramic view of the Dairoku Daiba (the currently off-limits Sixth Fort built in 1853 for defense), which has become the habitat of birds such as cormorants and herons. http://water-taxi.tokyo
Gozabune Atakemaru by Samurai Cruises Tokyo Bay
Gozabune Atakemaru is a pleasure cruiser modeled after boats used by Shoguns in the 17th century (goza means a place where nobles, including emperors and shoguns, sit). The interior was just refurbished in 2017. In the elaborate setting of this cruiser, you can enjoy a song and dance show by performers in kimono costumes, which will transport you back to the Edo Period, as well as a stunning night view of Tokyo Bay, including the illuminated Tokyo Gate Bridge and Odaiba, after the show. https://www.samuraiship.tokyo
☆Cruise Search
Tokyo Convention & Visitors Bureau's "Tokyo Cruising"
http://www.gotokyo.org/search/en/course
One more thing to note…Free Wasen Ride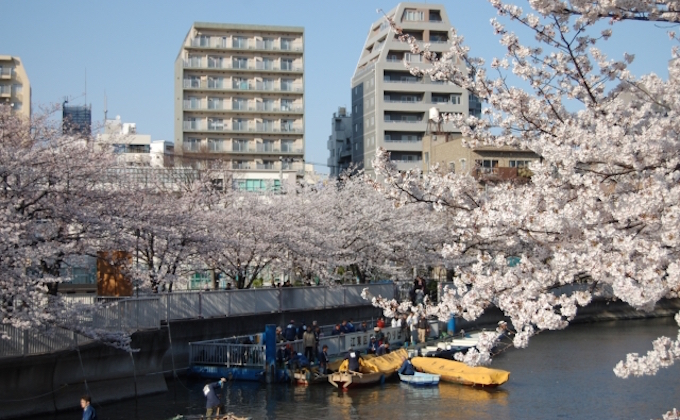 Wasen are traditional Japanese wooden boats propelled by sculls or sails.
Koto City of Tokyo holds seven wasen at Yoko Jikken River Water Park, and they are used by the local Wasen Tomo no Kai (friends of wasen) group. You can take a 20-minute ride on one of the wasen for free, and if you want, you can try sculling, too.

To have this unique, wasen ride experience, just go to the reception desk in the park at the Umibe pier, between the Iwai Bridge (岩井橋) and the Umisuna Bridge (海砂橋), between 10 am and 2:15 pm.
The free ride schedule is available on the Koto City website at http://www.city.koto.lg.jp/470601/machizukuri/kasenkoen/shuun/7477.html (Japanese only).
How to get there:
By Toei Bus:
A 5-minute walk from Ogibashi 2-chome bus stop (on the 東22 or the 錦22 lines)
A 2-minute walk from Ogibashi 3-chome bus stop on the 秋22 line or Toyo 7-chome bus stop on the 門21 line
By subway:
A 10-minute walk from Toyocho Station (T14) on the Tokyo Metro Tozai Line