TRG Info and Advice
How to enjoy an izakaya: an invitation to a real Japanese-style dining experience
What is an izakaya?
If you fancy a dining experience like the locals and expats, izakayas can be a good option. As a typical Japanese restaurant/bar, an izakaya is a very common, casual type of dining and drinking establishment, like Spanish tapas bars or British gastro pubs. Around the time the sun begins to set, you may see people flocking to izakayas to relax, and enjoy food and drinks together with their colleagues, or friends.
The name "izakaya" comes from a time in the Edo Period (1603-1867), when people would sit and drink sake on the premises of sake shops, a practice called "izake." Later on, sake shops began serving light meals to the people gathered there. Until a few decades ago, izakayas used to be like an "oasis for middle-aged men," where older "salarymen" or male laborers could enjoy a drink or two after work. Nowadays, however, it has become a common dining and drinking option for many people, regardless of age or gender.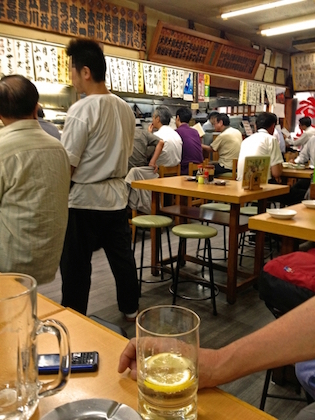 Izakayas are everywhere in Japan, today, by stations, in the city center, in shopping areas, etc. They come in all shapes, sizes and styles: from small, privately-owned ones where local regulars gather, to large chain ones with groups of youngsters. Some of them have themes, such as "prison," "ninja" (specially-skilled, professional spies in the pre-modern age), and "school lunch." (You might wonder why, but quite a few Japanese people have strong feelings of nostalgia for school lunch!) One of the benefits of an izakaya is that you can go and eat and drink until you are full, at comparatively reasonable prices. There is usually a casual atmosphere, but recently, stylish and fancy izakayas suited to dates and other special occasions have cropped up, too.
Most izakayas are open only in the evening, but some izakayas offer alcoholic drinks during the day, and, especially in business districts, offer set meals during lunchtime.
Izakaya Food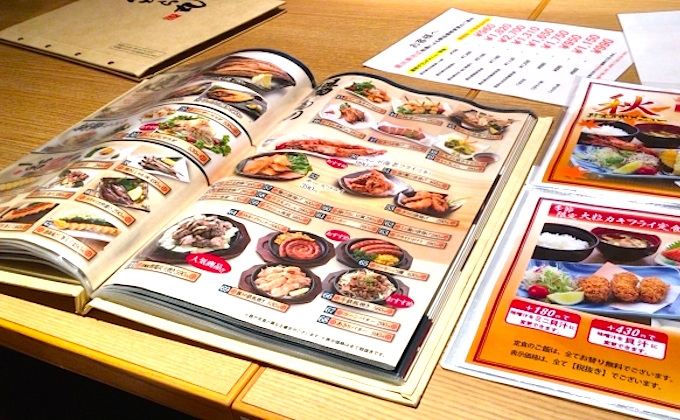 Most izakayas offer a plethora of food items, from snacks to something more substantial like rice omelets. The amazing variety of menu options includes nibbles such as edamame (boiled green soybeans) and Japanese dishes like sashimi, tempura, tofu, grilled fish, hot pot dishes and more. Some izakayas even serve Chinese dishes such as dumplings and fried rice, or Western cuisine, including pizza and fried potatoes. Izakayas that serve seasonal dishes and their own, creative items are also common.
The best way to enjoy the izakaya experience is to order a variety of food and share it among your party, not to order a starter and a main course for each person. The portions of izakaya food are usually small, and not meant to fill you up with one plate. Because they are meant to be shared, you can enjoy the healthy Japanese style of drinking and eating many different kinds of dishes, little by little, over time.
Izakaya Drinks
Izakayas also offer an exciting lineup of drinks. This list includes beer, sake, shochu (Japanese distilled spirits), chuhai and "sours" (shochu-based, usually bubbly, drinks), hoppy (a beer-flavored, low-alcohol beverage), and more, all of which are typical beverages at an izakaya. Of course, soft drinks are also available, such as Japanese tea, fruit juices and fizzy drinks.
All-you-can-drink "happy-hours," in large chain izakayas and some others, are gaining popularity, as they allow you to drink as much as you want for a fixed price and period of time. With all-you-can drink specials, you can usually order refills after you empty your glass.
Note: Mixing many kinds of drinks might cause regrets in the morning! Please stay mindful of staff members and others.
Izakayas 101
One of the great things about izakayas is that they allow you to enjoy what you like, as much as you like, and in the way you like.
Here are some basics as to how to enjoy an izakaya visit in the Japanese way.
◼︎Entering
Depending on the establishment, a host/hostess may seat you, or you may choose to sit wherever you want. Occasionally you are asked to take your shoes off and put them in a shoe storage chest.
Izakayas may have counter seats, tables and chairs, sunken kotatsu-style seats, or seats in tatami-mat floored sections.
At the counter, dishes may be on display, and you can enjoy watching the chefs prepare orders right before your eyes.
At the sunken kotatsu-style seats, you will need to take off your shoes, but there is room for your feet under the table and so, you can sit just like sitting on a chair.
You will also be asked to take off your shoes when sitting at a table on the tatami-mat floor, which is comfortable and relaxing. Some izakayas provide private dining rooms, too.
Some izakayas provide you with an oshibori, a (sometimes hot) wet hand towel/sheet to clean your hands.
◼︎Ordering
Once you are seated, choose and order a drink. Japanese people typically start with "nama," or draft beer (this is called "a beer for the time-being"), but of course, you can order whatever you want. Many large chain-izakayas provide numbered, illustrated menus or menus in other languages (often English and Mandarin), and, at some izakayas, touch panel menus and ordering systems are available, too.
Once you are ready to order, call out to your server by saying, "Sumimasen!" (Excuse me!), or "Onegaishimasu!" (Can you please take my order?) It might feel intimidating to shout out something in Japanese if you are unfamiliar with the language, but don't be scared! If you are too shy, simply raise your hand to signal a staff member. Or, just press the call button provided at the table, if available (usually at large chain-izakayas).
In many cases, an "otooshi" (small appetizer) is served after you order your drink, even though you haven't ordered it. Otooshi is usually a quick nibble served in a tiny bowl or on a small plate, and is billed as a cover charge of a few hundred yen, which is automatically added to your bill.
As you wait for your drink to arrive, explore the menu and decide what to eat. Izakayas usually have something for everyone. Don't get overwhelmed by the Japanese text or the vast range of choices. If you are not sure what to choose, always ask for recommendations by saying, "Osusume wa nandesuka?" (What do you recommend?) It is a good idea to let your server know your budget range, what you feel like trying (sashimi, meat, deep-fried dishes, etc.), and what you don't eat. They will surely serve you the best food for the season, and on the day of your visit.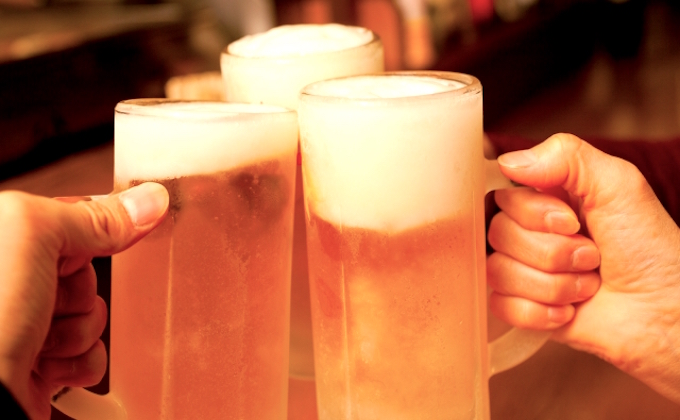 Now your party's drinks arrive. Order some food, and it is time for a toast, "kanpai!" (Cheers!)

Food is usually served as it becomes ready. This is one reason why sharing a variety of appetizers and dishes is recommended. The izakaya experience is about lingering over your meal, enjoying fun conversation while sampling culinary pleasures, and slowly un-winding with a drink or two, or five. Remember, you don't have to order everything at once. Just pick out two or three items at a time. Place orders whenever you feel like doing so and for whatever you are in the mood. The portions are supposed to be small. They're meant for sampling, not for filling you up, but if you find a favorite, don't be shy about ordering it again.
When you have had your fill of complicated flavors and want something simple to end the meal, consider ordering a bowl of rice or noodles. Many Japanese drinkers order rice or noodle dishes to round off the meal before having dessert. But, of course, you can do as you like!
Etiquette Note: It is considered inappropriate to rub waribashi (disposable wooden chopsticks) after splitting them.
◼︎Settling the bill
When you are ready to settle your bill, once again, signal your server by saying loudly, "Onegaishimashu!" or "Sumimasen." If you tell your server, "Okanjo onegaishimasu." or "Okaikei onegaishimasu." (both phrases mean: "Can you please bring me the bill?"), she/he will bring you the bill or take you to the register. You are usually asked to pay at the register.
If you are out with a group of primarily Japanese people, expect that the bill will be split evenly, regardless of what or how much each person consumed individually. That is just the group-minded Japanese mentality, and it is difficult to argue without making a big scene.
Caution!
・You can settle your bill by credit card at most of the large chain-izakayas, but usually not at smaller, privately-owned izakayas. If you are planning to pay with a credit card, make sure to ask if the izakaya accepts them when you arrive.
・Except in special circumstances, there is no practice of tipping servers in Japan. If you leave a tip on the table, staff members might chase you down with that money, thinking that you accidently left it behind.
—
Izakayas are a great place to sample a variety of Japanese dishes and alcoholic drinks, including sake.
Why not visit a lot of different izakayas, and discover your favorite?
More links to whet your appetite for learning about Japan and all things Japanese