日本料理 京橋 婆娑羅
Japanese Cuisine Kyobashi Basara
HOSPITALITY(OMOTENASHI)
Do not miss our meat dishes!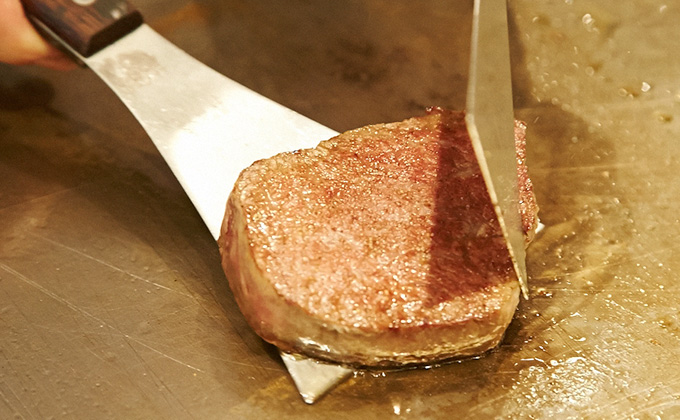 Young chicken, boldly roasted using a rotisserie machine is a superb item, with the savory smell of the skin and the juicy flesh. Teppanyaki dishes are made by heating the iron plate to just the right temperature and grilling a variety of meats quite satisfactorily. We'd like you to enjoy our rich variety of Japanese dishes, to your heart's content.
An unshakable signature dish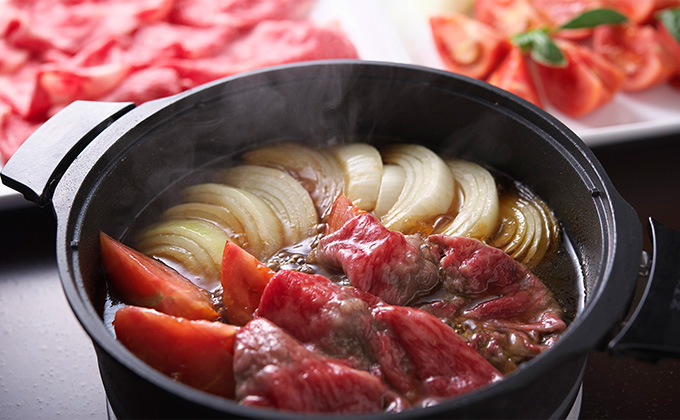 "Tomato sukiyaki," which is made by re-arranging the traditional dish of sukiyaki, is a signature meal which has won a Michelin Star at our branch restaurant in Mita. We recreate this dish by following the Mita shop's recipe faithfully. We duplicate everything from ingredients to cooking utensils. This sukiyaki has an entirely new taste because of the basil-flavored stock. We recommend this to people who have a full appreciation of Japanese cuisine. One of our staff members will prepare this original twist of an old favorite, right beside your table.
If you are a first-time visitor, we recommend our set course meals.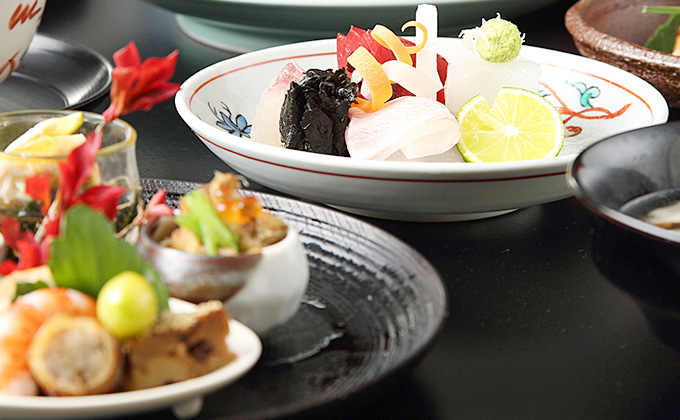 Á-la-carte menu items enable you to choose dishes you like, and can be fully enjoyed, but we'd like to recommend Kaiseki multicourse dishes if you want to savor Japanese food. With elegant aesthetic beauty and delicate flavors, you can experience the unique development of Japanese dishes. We'd like you to enjoy the spirit of Japanese cuisine accompanied by the perfect drink.
Fish sent directly from across Japan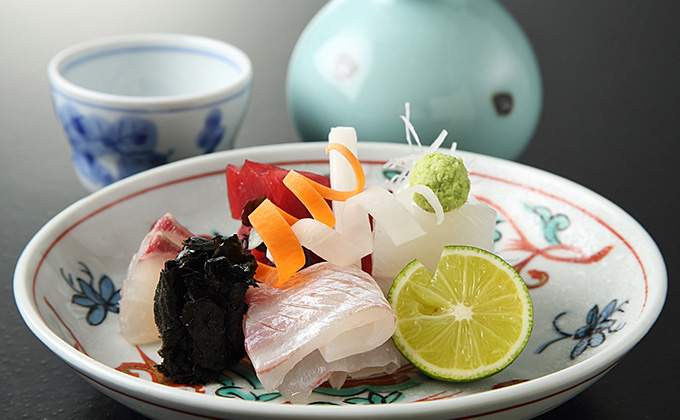 Among other carefully selected foodstuffs, scrupulously chosen fishes are sent directly from producing areas. Without moving out of Tokyo you can savor wonderful tastes from across Japan. Above all, sashimi, prepared by traditional knife-handling, is one of the master chef's recommended dishes that should not be missed.