TRG Info and Advice
Yakisoba (stir-fried noodles)
The History of Yakisoba
Yakisoba has roots in Chinese chow mein, Chinese noodles stir-fried and seasoned mainly with salt or soy sauce. Yakisoba came to existence in Japan around 1950, after World War II. Around that time, flour was expensive and not accessible to common people, so yakisoba's volume was increased with cabbage, which was cheap. In the beginning, yakisoba in Japan was seasoned with salt or soy sauce, but the water from the cabbage diluted the taste. Therefore, Worcester sauce began to be used as a seasoning, instead.
Dagashi (cheap candies and snacks) stores began selling yakisoba with Worcester sauce flavoring, and so it earned popularity among children. For them, it was something (other than sweets) to fill their stomachs, at a time of food insecurity. Yakisoba later became a dish made at home, and the number of restaurants that served yakisoba increased.
What is yakisoba?
Yakisoba is made by stir-frying Chinese noodles with meat (such as pork), vegetables (including cabbages and bean sprouts), seafood (such as squid and shrimps), and other things. This mixture is then seasoned with Worcester sauce, salt or soy sauce. Yakisoba is easy to make, so it is often sold at school festival food booths. Made fastidiously with special noodles, ingredients and seasonings, it is also being used as a B-grade cuisine dish (with local fare and economical methods) to revitalize areas all around Japan.
There are other dishes integrated with yakisoba: yakisoba-pan (yakisoba sandwich) is a hot-dog bun stuffed with yakisoba; modan-yaki is yakisoba cooked with okonomiyaki ingredients; and omusoba is an omelette stuffed with yakisoba.
Yakisoba Varieties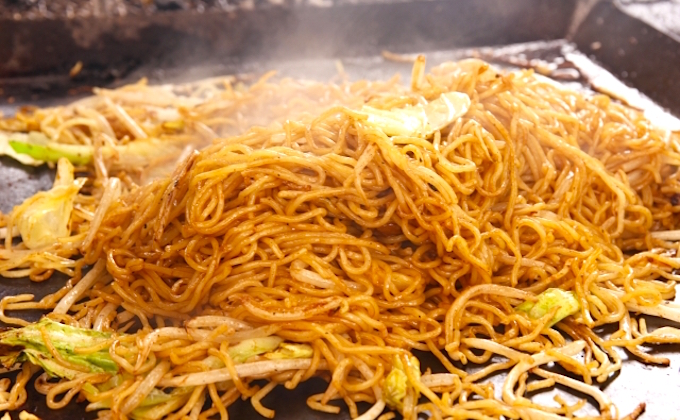 Sosu Yakisoba (yakisoba in Worcester sauce)
Sosu yakisoba is the most popular variation of yakisoba. It is prepared by stir-frying Chinese noodles and other ingredients, such as vegetables, then seasoning them with Worcester sauce or oyster sauce. Food companies also sell special yakisoba sauces.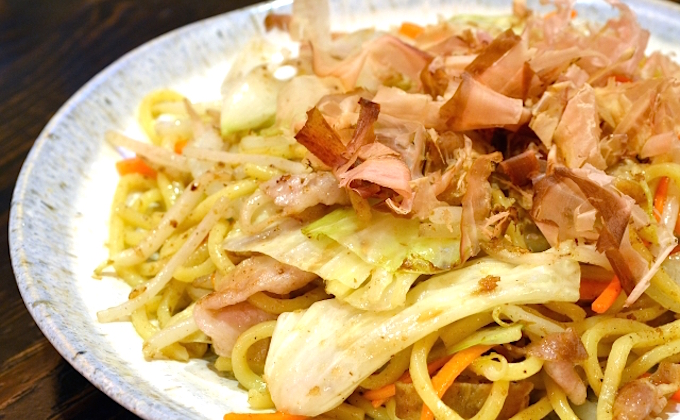 Shio Yakisoba (salt-flavored yakisoba)
Shio yakisoba is made by stir-frying Chinese noodles and other ingredients, then flavoring them with salt. It has a light taste that goes well with seafood.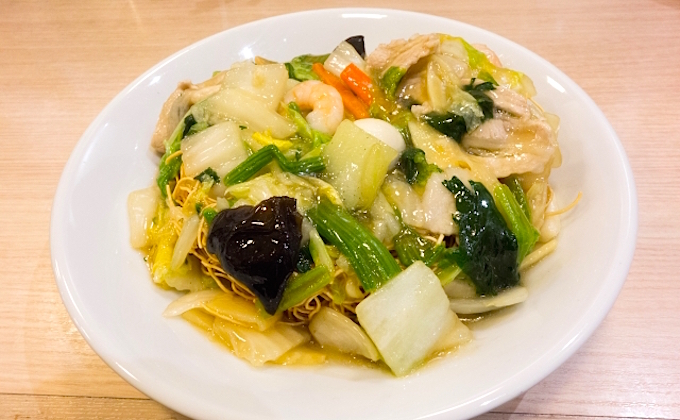 Kata Yakisoba ("hard" yakisoba)
Kata yakisoba is made from deep-fried or grilled, soft Chinese noodles covered with a thickened sauce. There is a similar dish called "sara udon." The difference between kata yakisoba and sara udon is that the sauce for sara udon is salt based, while the one for kata yakisoba is based not only on salt but also on soy sauce. This is because the sauce for sara udon originated from the ingredients for champon noodles, whereas the sauce for kata yakisoba is derived from happosai ("eight treasure" stir-fry) or gomoku umani (simmered meat and vegetables in a thick sauce.)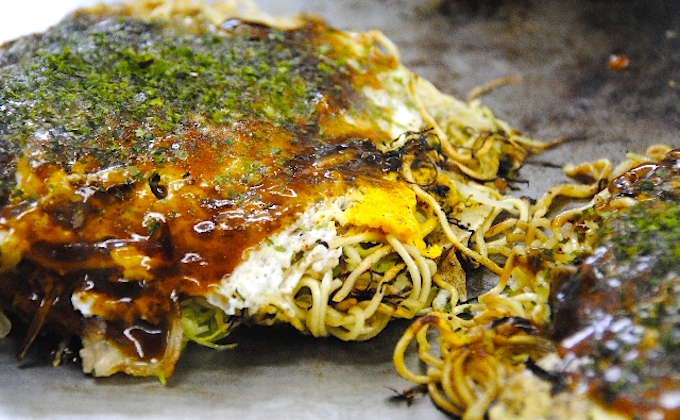 Modan Yaki
Modan yaki is a variation of okonomiyaki. It is made by laying Chinese noodles over an okonomiyaki pancake that has been grilled on one side, grilling both sides, and then finishing with a sweet, thick sauce and mayonnaise. It is a filling dish that offers the tastes of okonomiyaki and yakisoba at the same time.
Local Specialty Yakisoba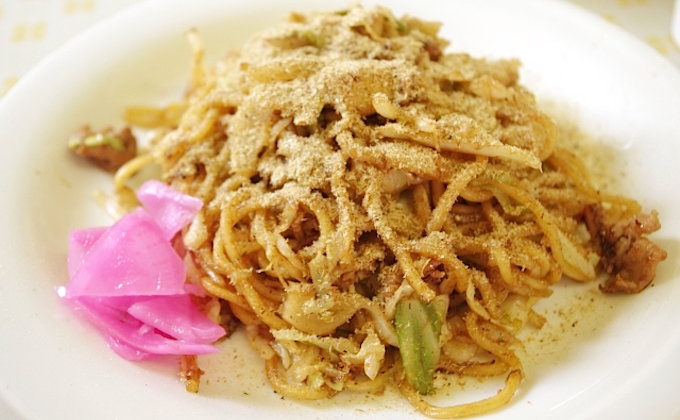 Fujinomiya Yakisoba (Shizuoka Prefecture)
This kind of yakisoba is made in Fujinomiya, Shizuoka Prefecture, is one of the three major Japanese yakisoba varieties, and typical B-grade cuisine in Shizuoka. Special features include the chewy texture of the noodles and a distinctive flavor. Fujinomiya yakisoba is made using special noodles made within Fujinomiya City, abura-kasu (deep-fried intestines), cabbages produced in Fujinomiya City, Mt Fuji spring water and dashi broth powder (shavings of dried sardine), among others.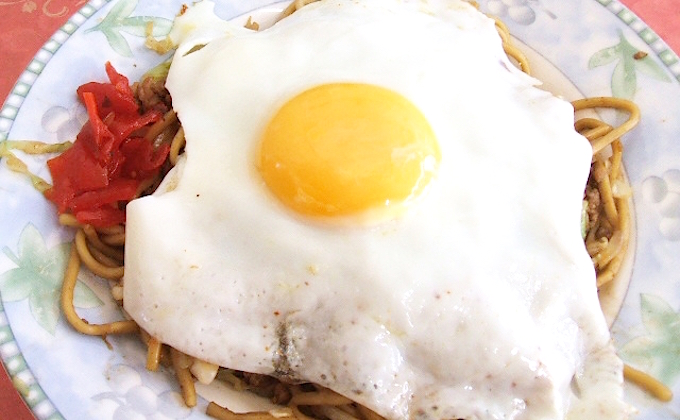 Yokote Yakisoba (Akita Prefecture)
Yokote yakisoba, made in Yokote City, Akita Prefecture, is also one of the three major Japanese yakisoba varieties. Yokote yakisoba is made using thick, straight noodles with square ends and Worcester sauce, with original soup unique to each shop. It is topped with a soft-cooked fried egg and garnished with fukujinzuke pickles.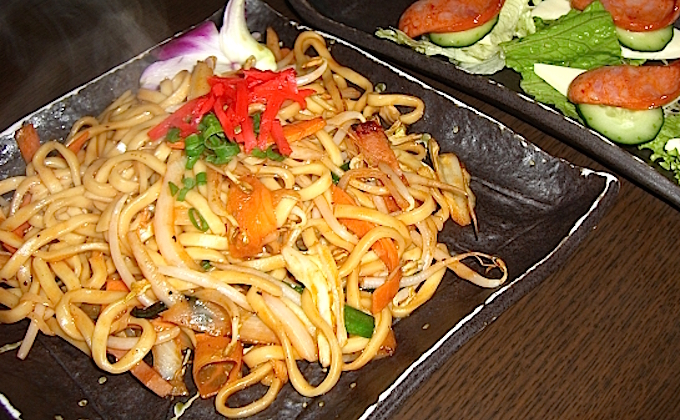 Ketchup Yakisoba (Okinawa Prefecture)
When people talked about yakisoba in Okinawa, it used to be ketchup flavored yakisoba, not sosu yakisoba, to which they were referring. Since it is made from Okinawa soba noodles, not Chinese noodles, it is filling and has a similar taste to Spaghetti Napolitan (ketchup spaghetti). Nowadays in Okinawa, however, yakisoba is usually flavored with soy sauce, Worcester sauce or salt.
Joshu Ota Yakisoba (Gunma Prefecture)
Ota yakisoba, made in Ota City, Gunma Prefecture, is another one of the three major Japanese yakisoba varieties. Ota yakisoba is made using thick, flat noodles, a fastidiously made sauce (unique to each shop) and cabbages. It is garnished with aonori green laver and fukujinzuke pickles as a finishing touch. It is a simple combination of ingredients, but the flavors are perfectly harmonized.
Okhotsk Kitami Shio Yakisoba (Hokkaido)
Yakisoba made in Kitami City, Hokkaido. Okhotsk Kitami shio yakisoba is made using onions produced in Kitami, which is the largest producer of onions in Japan, scallops produced in Tokoro, Kitami City, which are a luxurious delicacy of the Sea of Okhotsk, and noodles made from flour produced in Hokkaido. Kitami yakisoba is seasoned with a special sauce made from Kitami onions, the extract of scallops produced in Tokoro, Kitami City, and the natural salt of the Sea of Okhotsk. Okhotsk Kitami shio yakisoba is presented in a fastidious style: served on an iron pan with disposable wooden chopsticks made in Hokkaido. It is recognized by the Kitami Yakisoba Council.
Okabe Yakisoba (Shizuoka Prefecture)
This yakisoba is made in Okabe-cho, Fujieda City, Shizuoka Prefecture. Okabe yakisoba is prepared using green noodles kneaded with gyokuro Japanese green tea powder, local specialties like bamboo shoots and shiitake mushrooms, and other vegetables such as cabbage, but no meat. Stir-fried noodles and vegetables are then mixed with tempura bits to add a rich taste, and seasoned with a Japanese style sauce made from soy sauce and the homemade noodle dipping sauce of each restaurant. Okabe yakisoba is topped with sakura shrimp, a soft-cooked fried egg and pickled red ginger. It also tastes good with a drop of sweet vinegar.
Namie Yakisoba (Fukushima Prefecture)
This yakisoba is made in Namie Machi, Futaba-Gun, Fukushima Prefecture. Namie yakisoba came into existence 50 years ago, as a food item that is filling and keeps laborers going longer. It is yakisoba made from simple ingredients like thick sauce, pork and bean sprouts, but what is unique about Namie yakisoba is the use of extra thick noodles, three times thicker than ordinary noodles, and the way it is eaten with chili pepper powder.
Jagaimo-iri Yakisoba [yakisoba with potatoes] (Tochigi Prefecture)
This yakisoba is made in Tochigi City, Tochigi Prefecture. Chinese noodles are stir-fried with bite-sized potatoes. Supposedly, the practice of adding "jagaimo" was to increase the volume at a time of food shortages during World War II. The square thin noodles and spicy sauce go well together.
Horu(mon) Soba (Tottori Prefecture)
Horu soba is yakisoba with beef entrails, loved in the east area of Tottori Prefecture for over 50 years. Even though the same name, "horumon (hormone) yakisoba," is used, each restaurant has its own preference for sauce, entrails, noodles and other ingredients. Entrails include chewy innards such as small and large intestines and crunchy innards such as the heart, rumen and honeycomb tripe. The sauce is mainly miso flavored, but it varies from sweet to spicy, and is served differently, too, mixed with noodles or as a dipping sauce. Each restaurant offers its own noodles with varying levels of thickness and hardness, so each restaurant's version is unique.
Utsunomiya Yakisoba (Tochigi Prefecture)
This yakisoba is made in Utsunomiya City, Tochigi Prefecture. Utsunomiya yakisoba is characterized by its preparation methods: steamed twice and grilled twice. Steamed, thick noodles are grilled on an iron pan and then steamed again to give the noodles a chewy texture. The cooked noodles are mixed with additional special sauce as desired, for this style of yakisoba has a 50-year history.
Salty Yakisoba with Iwatsuki Spring Onions (Saitama Prefecture)
This yakisoba is made in Iwatsuki Ward, Saitama City, Saitama Prefecture. Salty yakisoba with Iwatsuki spring onions is a B-grade cuisine that features spring onions, and was created to promote a delicious recipe for the sweet and soft Iwatsuki spring onions loved since the Edo Period. To maximize the flavor of the Iwatsuki spring onions, the sauce is salt-based. The harvest season of Iwatsuki spring onions is from November to April, and this dish is served at restaurants during the same period of time.
Hiruzen Yakisoba (Okayama Prefecture)
This yakisoba is made in the Hiruzen area, Maniwa City, Okayama Prefecture. Hiruzen yakisoba is highland, B-grade cuisine made with a special, thick, salty-sweet, miso-based sauce mixed with apples, onions, garlic, ginger, and others. Its special features are matured chicken meat that gives off more flavor as you chew, and cabbages produced in the Hiruzen Highlands.
Sakura Ebi [cherry-blossom shrimp] Yakisoba (Shizuoka Prefecture)
This yakisoba is made in Shimizu Ward, Shizuoka City, Shizuoka Prefecture. Sakura ebi yakisoba is yakisoba unique to a seaside town, featuring local specialties like dried sakura ebi shrimp and sardine flakes. Sakura ebi shrimp are sun-dried around the Fujikawa River with Mt Fuji in the background, creating a scene that looks like a pink carpet.
Nagano Ankake Yakisoba (Nagano Prefecture)
When people talk about yakisoba within Nagano City, they are usually referring to ankake yakisoba, which is yakisoba with a thickened sauce. Large portions are the norm, and the thickened sauce is so sweet that it is usually eaten with vinegar-mixed Japanese mustard.
Aizu Kare Yakisoba (Fukushima Prefecture)
This is yakisoba made in Aizu Wakamatsu City, Fukushima Prefecture. The name is kare yakisoba, but it is not curry-flavored. Aizu kare yakisoba is each restaurant's fastidiously made yakisoba topped with carefully made curry. This is yakisoba that local people have been familiar with from the late 1970's.
Tantan Tanuki No Tantan Yakisoba (Kanagawa Prefecture)
This yakisoba is made in Yugawara Town, Kanagawa Prefecture, using local produce and locally produced noodles. It features a savory, piquant flavor, seasoned mainly with sesame paste and broad bean chili paste. There is a wide variety: from the Yugawara citrus type, topped with locally produced citrus as a secret ingredient, to the onsen tamago style, topped with an onsen tamago (softly-boiled egg), which represents Yugawara's thriving onsen (hot springs).
Supu-iri Yakisoba [yakisoba with soup] (Tochigi Prefecture)
This yakisoba is served at the hot-spring village of Shiobara in Nasushiobara City, Tochigi Prefecture. Supu-iri yakisoba is made by placing freshly cooked sosu yakisoba in a bowl and pouring a soy-flavored soup over it. It has been a much-loved dish for over 50 years at the Shiobara Onsen Village. The flavors of Worcester sauce and soy sauce gradually fuse together to make a unique taste that is potentially addictive.
Italian Yakisoba (Niigata Prefecture)
This yakisoba is famous in the Chuetsu and Kaetsu areas of Niigata Prefecture. Italian yakisoba was created by a local restaurant in 1959, and is made withsauce-flavored, thick, stir-fried noodles topped with an original, western-style sauce (tomato sauce, curry sauce, white bechamel sauce, etc.) and ginger. Italian yakisoba is a comfort food in Niigata, loved by a wide range of people: from teens to retirees.
Muraoka Mayo Yakisoba (Kanagawa Prefecture)
This is yakisoba made in Muraoka, Fujisawa City, Kanagawa Prefecture. Muraoka mayo yakisoba is made from mayonnaise, chili oil, oyster sauce and a lot of ingredients produced in Fujisawa. It first gained widespread recognition when it won Grand Prize amongst thirteen areas at the first Shonan Fujisawa Gourmet Noodle Contest, held on 20 November, 2010.
Ishinomaki Yakisoba (Miyagi Prefecture)
This yakisoba has been loved since around 1950, in the Ishinomaki area, Miyagi Prefecture. The most distinctive feature of Ishinomaki yakisoba is the noodles. Unlike ordinary Chinese noodles, they start out brown (even before cooking), absorb water and smell savory. The noodles are prepared by pouring dashi broth over them for additional steaming, and, as an untold rule, the sauce is then added by each diner as desired.
Kobe Bokkake Yakisoba (Hyogo Prefecture)
This yakisoba is made in Osada, Kobe City, Hyogo Prefecture. Kobe bokkake yakisoba is a homestyle dish in the Osada Ward of Kobe City, made with bokkake, which is salty-sweet simmered beef tendon, and konnyaku devil's tongue. The salty-sweet taste of bokkake, and the savory sauce intertwined with the noodles, make this yakisoba delicious.
Seishun-no-Tomato Yakisoba (Yamanashi Prefecture)
This is yakisoba sold in the area around Chuo City, Yamanashi Prefecture. Seishun-no-tomato yakisoba is a lightly flavored version, topped with tomato sauce made from fully ripened tomatoes (the local specialty in Yamanashi Prefecture), and Fujisakura Pork, a brand variety of pork. This yakisoba originated from "yakisoba with meat sauce," a dish that used to be served at a coffee house within the prefecture during the 1970's.
Kuroishi Tsuyu Yakisoba (Aomori Prefecture)
This yakisoba is a new creation from Kuroishi Yakisoba in Kuroishi City, Aomori Prefecture. Kuroishi tsuyu yakisoba is prepared by pouring salty-sweet soba sauce over kuroishi yakisoba, whose thick and flat noodles feature a chewy texture that are a perfect match for the sauce. Toppings include plenty of tempura bits and chopped spring onions. Soup for ramen noodles can also be poured over this yakisoba, so there are lots of variations.
Itoigawa Black Yakisoba (Niigata Prefecture)
Itoigawa black yakisoba is a yakisoba newly created by Itoigawa Umaimon (Gourmet) Group, which was organized by restaurants in Itoigawa City, Niigata Prefecture, with the goal of local revitalization through food. This yakisoba, made with squid and squid ink harvested in Niigata, makes a strong impression in both appearance and taste. Ingredients other than squid vary depending on the restaurant.
Kawagoe Futomen Yakisoba (Saitama Prefecture)
This yakisoba, made in Kawagoe City, Saitama Prefecture, uses thick, short, chewy noodles and a little bit of cabbage, and is served without meat at most restaurants. The sauce varies from a light one to a sweet one depending on the place. This yakisoba is a simple one, with a nostalgic flavor. Kawagoe futomen yakisoba has a 50-year history.
Seto Shoyu [Soy Sauce] Yakisoba (Aichi Prefecture)
This yakisoba from Seto City, Aichi Prefecture, has steamed noodles, flavored with a soy-based broth in which pork has been simmered. The ingredients are simple: just pork and cabbage, and it is topped with pickled red ginger. Because of the soy-based flavor, it has a light and nostalgic taste. Seto shoyu yakisoba is set to be served on a seto yaki porcelain plate.
Oga-no Yakisoba (Akita Prefecture)
Oga-no yakisoba is made in Oga City, Akita Prefecture, and is also known as Oga Shottsuru yakisoba. This yakisoba, unique to Oga, was developed by Shottsuru Use Promotion Council, established at the Oga Association of Commerce and Industry with local noodle makers, in order to promote a food culture of local specialties such as hata-hata (sailfin sandfish) and shottsuru (fish sauce). The noodles are made by mixing wakame (seaweed) powder and kombu (seaweed) broth powder, and the sauce is salty or soy-flavored with a shottsuru base. Other ingredients vary depending on the restaurant.
Ina Romen (Nagano Prefecture)
Ina romen is a local noodle dish made, in the Ina District of Nagano Prefecture, by simmering lamb meat and steamed, firm Chinese noodles in a special broth, with cabbage and cloud ear mushrooms. Ina romen comes in two styles: stir-fried or soup noodles. The dish was first called chow row mien (fried meat and noodles), just adding "row" to chow mien. The name was later shortened to row mien (pronounced romen in Japanese), which took root.
Suyaki (Shiga Prefecture)
Suyaki is yakisoba created in the 1950s in Koga City, Shiga Prefecture, under the concept of offering something cheap and good for students. Suyaki is prepared by stir-frying Chinese noodles with lard, adding bean sprouts and spring onions, and then seasoning them with salt before serving. Suyaki can be further seasoned with pepper, Worcester sauce or soy sauce, according to each diner's preference.
Kashihara Stamina Yakisoba (Nara Prefecture)
This yakisoba is served at a restaurant called Kashihara Stamina Ramen in Kashiara City, Nara Prefecture. The ingredients include low water-content noodles, such as Chinese noodles, pork belly, cabbage, Chinese cabbage and garlic chives. The watery soup has a piquant flavor with notes of garlic and board bean chili paste, and chicken bones add to it a refreshingly rich taste, which stimulates the appetite.
Hita Yakisoba (Oita Prefecture)
Hita yakisoba, made in Hita City, Oita Prefecture, features noodles stir-fried on an iron pan until nicely charred. The noodles are then mixed with ingredients, including bean sprouts, spring onions and pork, and seasoned with a rich sauce. It is said that Hita yakisoba was created in the 1950s by Mr Yasuchika Sumi, who was the first owner of the restaurant "Soufuren," which specializes in Hita yakisoba.
Fujisawa Chow Mein (Kanagawa Prefecture)
Fujisawa chow mein, made in Fujisawa City, Kanagawa Prefecture,is full of ingredients produced in Fujisawa, such as noodles made from Fujisawa flour, local vegetables and pork. This yakisoba is seasoned with salt and pepper, and chicken bone soup, so it has a distinctive texture and the flavors of noodles and vegetables.
Tokyo Ota Shio Yakisoba (Tokyo)
Tokyo Ota shio yakisoba, made in Ota Ward, Tokyo, uses only those ingredients related to Ota Ward: the chewy noodles are made to represent the Rokugo Canal; crunchy ume plums are used because the flower of the ward is a plum blossom; Omori nori seaweed is a local specialty; Sakura shrimp in tribute to Sakura-zaka, a beauty spot in Ota; asari clams in tribute to Omori Shell Mound; onions (called "tamanegi" in Japanese) represent the Tamagawa River; bean sprouts (moyashi in Japanese) in tribute to a famous meeting place, "Moyai Statue;" garlic chives that resemble leaves of sweet flags in Kamata; and a special, salt-flavored sauce made from chicken bone broth, that can be associated with Haneda Airport ("hane" means feathers in Japanese).
Higashimurayama Kuro Yakisoba (Tokyo)
Yakisoba made in Higashimurayama City, Tokyo. Each restaurant offers its own version, based on black (kuro) sauce made from squid ink, kuroki, which is a rare savory sake produced in Kagoshima, and a mix of spices. Higashimurayama kuro yakisoba has a taste that adults appreciate, thanks to the additions of the deep and elegant flavors of spices, squid ink and kuroki.
Nakaminato Yakisoba (Ibaraki Prefecture)
Yakisoba made in Hitachinaka City, Ibaraki Prefecture. Nakaminato yakisoba features thick, hand-pulled noodles with a chewy texture like udon, which are steamed in a steaming basket. Each restaurant has a unique way of fixing it, so you may enjoy a wide variety of Nakaminato yakisoba today.
Want to know more? Follow the links below to continue your virtual Japanese adventure.