TRG Info and Advice
Karaoke Like You've Never Seen Before
Of the plethora of experiences tourists are looking for in Japan, singing in a genuine karaoke box is at the top of the list for many. Did you know karaoke was invented in 1971 and that its name means "empty orchestra?" Did you also know that it took a while for the idea to catch on, but once it did, karaoke became THE activity for a night (or day) out with family and friends?
Fifty years ago, karaoke was expensive: about 100 JPY per song selected from a collection of cassette tapes, not to mention charges for the room, food and drinks. Karaoke bars were reportedly small, dark and smelly (cigarette smoke!), too. Now, smoking is banned in most places, rooms come in a variety of styles and sizes, and you can find almost any song ever produced, thanks to advanced technology and the internet! Karaoke boxes cater to every generation and occasion with all-you-can-drink and sing options, more food choices at competitive prices and flexible room rates.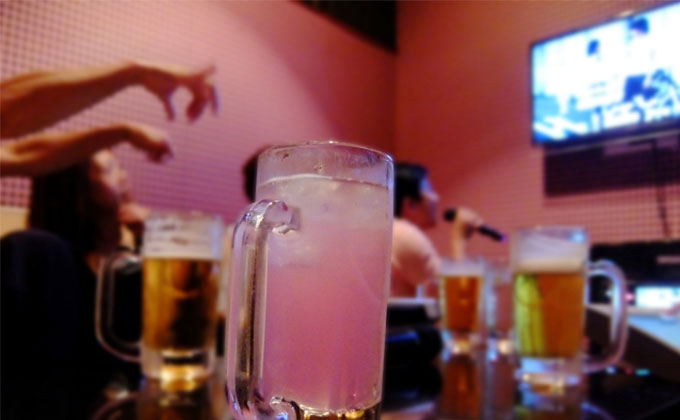 Perfect for this nation of naturally shy people, karaoke provides the support necessary to get up and sing your heart out! Like the much-loved American Happy Hour, karaoke is one of the few acceptable ways for Japanese people to let off steam. Close-quarters and notoriously thin walls have many people walking on eggshells in their own homes, barely speaking above a whisper if you live in an apartment.
Cue the karaoke box! If you haven't tried it, don't knock it! Find your go-to song and singalong with everyone else's, too.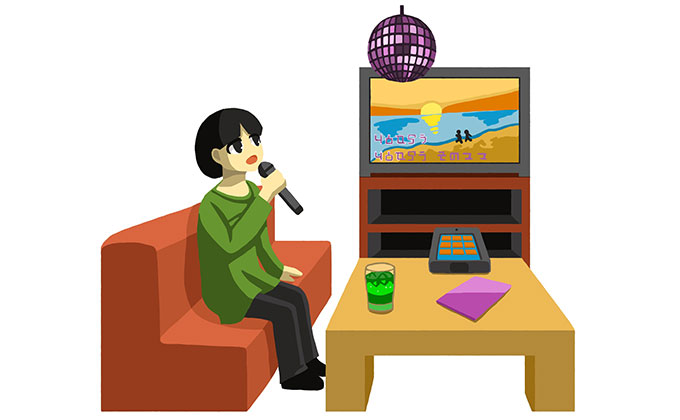 If singing in front of people is something you need practice for first, there are single occupant rooms perfect for hitokara (hitori (one person) + karaoke). Some machines will rate your singing, offer tips for improvement and even film your performance. Big Echo offers a variety of studio-like settings, including TV, radio and your very own concert! 
You can pretend you are on Karaoke Battle; picture America's Got Talent, only in Japan.
Or how about renting a karaoke room for something else: like watching the big game with your buddies. Modern Japanese homes are not designed for gatherings, so rarely do people invite friends over. Karaoke places have a variety of rooms to choose from, drinks and snack service, even clean restrooms! Meet up with your girlfriends for some stress-relieving rounds of Madonna, Aretha, Britney and Adele. Host your kids' birthday parties, or have a family Christmas sing-a-long.
According to a recent survey by the karaoke giant Joysound, nearly 42% of those surveyed reported using karaoke boxes for things other than singing, including business meetings, luggage storage, group viewings of live streaming events, and even private music or language conversation lessons!
Karaoke is recently being used to ward off dementia and muscle degeneration. A preventive health care class in Tokyo called Brain Training Genki Juku uses it for vocal exercises, practicing sounds like "ta," "ka," "pa," and "ra/la," that require fine muscles in the tongue and around the mouth. The benefits are not only physical, because giving older people a chance to get out of the house a little or align their voices, even if its via Zoom or other video apps, is good for the soul, too.
Unfortunately the market is shrinking. Every year, more karaoke companies are required to close locations around the world, and pay increasingly higher copyright fees, or remove songs altogether from their machines. Fewer mandatory work-related drinking parties have led to a large loss in revenue. They also have to compete with increasingly sophisticated mobile apps that allow people to sing whatever they want, whenever and wherever, without the use of a karaoke machine.
Cue the pandemic and, along with so many other businesses, karaoke places are suffering even more. Singing passionately in close quarters with seemingly limited ventilation, as well as using shared equipment, all check the danger boxes for COVID-19. Add to that mix the likelihood of drinking, eating and flirting, and the situation borders on deadly.  According to All Japan Karaoke Industrialist Association, however, surprisingly no clusters of COVID-19 have been reported from karaoke boxes. This anomaly is credited to the excellent ventilation systems already in place at these established venues. Great acoustics require specific soundproofing, but windows and doors that cannot be opened regularly can be a Building Standards Act violation if the ventilation system is not doing its job. Companies like Joysound report that the air in their karaoke rooms changes every six to nine minutes!
Of course, basic, common sense precautions are recommended! These include having everyone present, including the singers, wear a mask at all times. It is also suggested that the singer stand and perform directly below the vent, so that any potentially threatening aerosol can be sucked up. One last piece of advice: singers should allow time between changing performers to give the ventilation system a chance to do its job.
Many big name karaoke companies are offering a variey of ways to combat the coronavirus blues, including online singalong events for parties or small gatherings. Joysound took their coronavirus service even further by releasing over 300 songs on their YouTube channel for free. They also offer 44 exercise videos, including some that are especially geared to the elderly.
There is even a way to sing together, alone! Special technology allows you to connect with friends who are also in hitokara booths so that you can perform for each other or sing together, all within the safety of your very own space.
Once the quarantine ban was lifted in Tokyo and other areas around Japan, innovative karaoke places have opened up with various measures in place to protect their customers.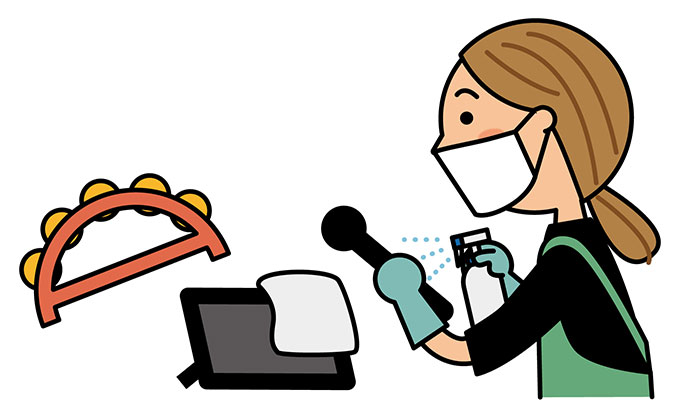 An AI machine at the entrance takes peoples' temperatures, ventilation has been further improved, and staff wearing masks and face shields periodically disinfect the rooms. Mics wear cloth covers and are surrounded by a plastic shield. Customers who want to can use the disposable plastic gloves provided.
True to form, karaoke machine makers have also stepped up to the challenge and introduced the "mask effect" feature! This special feature, found on the popular "Joysound" karaoke box, compensates for the singer's mask, enhancing his/her voice so that it sounds like it would in a normal situation. Participants can be safe and still sound awesome!
If sharing things makes you uncomfortable, there is even a way to use your own smart phone as a remote control. Connect with the machine in your room, and select the songs you want to sing without having to touch anything that others have handled.
There is still the eating and drinking issue, however. These things cannot be done without removing your mask, or can they!? Cue kimono-maker-turned-mask-expert Otozuki, who teamed up with a nightclub operator in Yonezawa, Yamagata, to create the face veil, so that people in the adult entertainment industry could do their jobs more safely. Modeled after the belly dancer's face veil, Otozuki's design has three flaps, with the middle one being of double thickness. Without taking off the covering, you can eat and drink by lifting up the middle flap. Traditional fabrics and lace are used in making these ingenious masks, so staying safe doesn't have to mean giving up style.
So, pick your poison and let it all hang out: alone, online, or in a group with masks! Karaoke may be just what the doctor ordered to usher 2020 out in a hurry, and welcome 2021 with voices raised in song.
Want to know more? Click here for a collection of articles on everything Japanese.