HOSPITALITY(OMOTENASHI)
Astonishingly light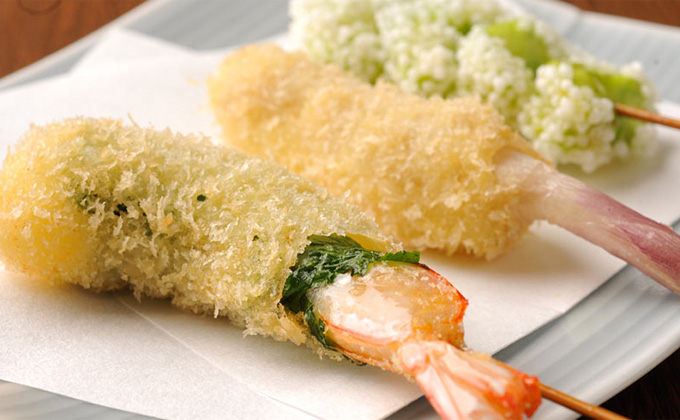 There are many people who think that deep-fried food is fatty and heavy, but many of the first-timers at Hantei say that they were "surprised at the lightness." We mainly use cottonseed oil, which is unlikely to cause "oil" sickness, and we have carefully selected fine bread crumbs, so we are able to make light kushiage by breading the ingredients thinly. This helps to prevent a heavy stomach feeling. Please enjoy Japanese tastes that are different from those of tempura.
Enjoy the variations of Japanese foodstuffs.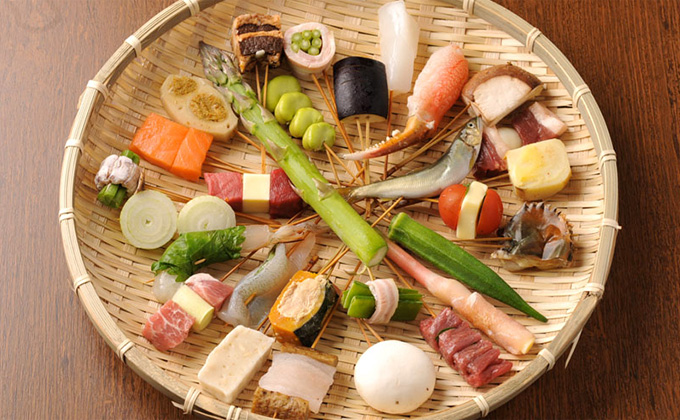 Instead of simply serving fish, vegetables and meat, we provide different kinds and ways of eating delicious seasonal foodstuffs which we have rigorously selected. Many people from overseas have trouble understanding the explanation of foodstuffs by the staff. This is because many of the foodstuffs used at Hantei are unique to Japan. We prepare foodstuffs that are most delicious at the time of your visit, in ways that make them the tastiest, so please enjoy the rich variation of Japanese foodstuffs.
Savor our kushiage while they are burning hot.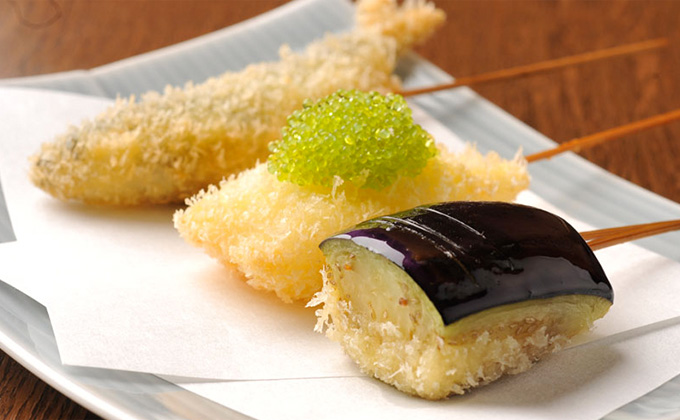 The original style of providing kushiage is to serve them one by one, at counter seats, when they are fresh out of the hot oil. But at Hantei, we have various kinds of seats so that you can enjoy your meals relaxedly. We serve three kushiage at a time so that you can enjoy them at your own pace while they are burning hot. No matter what order of eating you prefer, you can enjoy well-balanced kushiage.
You can choose from salt, sauce or miso.
Some kushiage have their own sauces, but for others, you can choose from the salt, sauce and miso that are placed on the table. If you are at a loss for which to choose, the staff can advise you on the recommended ways of flavoring your kushiage, so feel free to ask them.